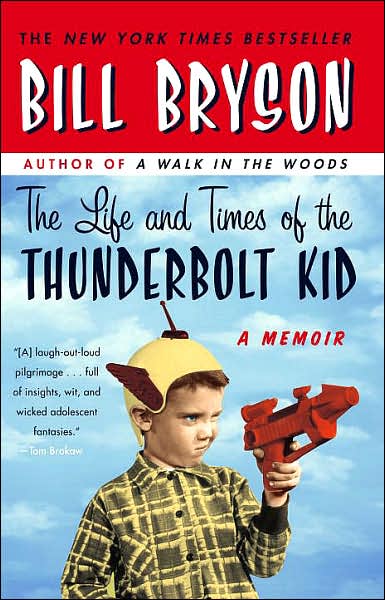 c2006 Non-Fiction; Grades 9+; 270 p.
2007 Book Sense Book of the Year
School Library Journal:
The Thunderbolt Kid was "born" in the 1950s when six-year-old Bryson found a mysterious, scratchy green sweater with a satiny thunderbolt across the chest. The jersey bestowed magic powers on the wearer-X-ray vision and the power to zap teachers and babysitters and deflect unwanted kisses from old people. These are the memoirs of that Kid, whose earthly parents were not really half bad-a loving mother who didn't cook and was pathologically forgetful, but shared her love of movies with her youngest child, and a dad who was the "greatest baseball writer that ever lived" and took his son to dugouts and into clubhouses where he met such famous players as Stan Musial and Willie Mays. Simpler times are conveyed with exaggerated humor; the author recalls the middle of the last century in the middle of the country (Des Moines, IA), when cigarettes were good for you, waxy candies were considered delicious, and kids were taught to read with Dick and Jane. Students of the decade's popular culture will marvel at the insular innocence described, even as the world moved toward nuclear weapons and civil unrest. Bryson describes country fairs and fantastic ploys to maneuver into the tent to see the lady stripper, playing hookey, paper routes, church suppers, and more. His reminiscences will entertain a wide audience.