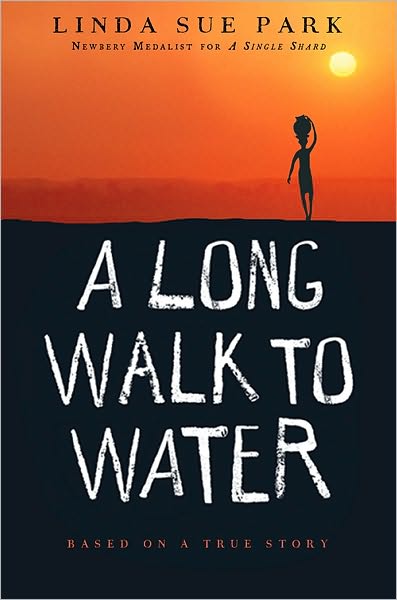 c2010 Fiction; Grades 6-9; 121 p.
Book Links Lasting Connections 2010
Booklist Starred: After 11-year-old Salva's school in Sudan is attacked by brutal rebel soldiers in 1985, he describes several terrifying years on the run in visceral detail: "The rain, the mad current, the bullets, the crocodiles, the welter of arms and legs, the screams, the blood." Finally, he makes it to refugee camps in Ethiopia and then Kenya, where he is one of 3,000 young men chosen to go to America. After he is adopted by a family in Rochester, New York, he is reunited with the Sudanese family that he left behind. There have been several books about the lost boys of Sudan for adults, teens, and even for elementary-school readers. But Newbery Award–winning Park's spare, immediate account, based on a true story, adds a stirring contemporary dimension. In chapters that alternate with Salva's story, Nya, a young Sudanese girl in 2008, talks about daily life, in which she walks eight hours to fetch water for her family. Then, a miracle happens: Salva returns home to help his people and builds a well, making fresh water available for the community and freeing Nya to go to school. The switching viewpoints may initially disorient some, but young readers will be stunned by the triumphant climax of the former refugee who makes a difference with the necessities that we all take for granted. Teachers may want to point out the allusion to Nelson Mandela's A Long Walk to Freedom (1995) echoed in this moving book's title.