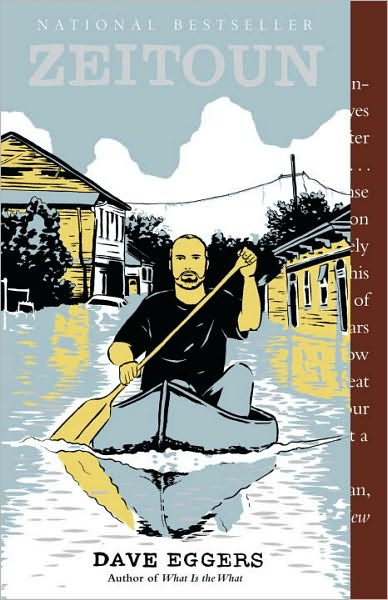 c2009 Non-fiction; Grades 9+; 351 p.
ALA 2010 Alex Award nominationsBooklist starred
: Eggers burst onto the scene in 2000 with his hugely successful memoir, A Heartbreaking Work of Staggering Genius. Unlike many memoirists, he has resisted the temptation to parcel out the unpublished parts of his life into yet more memoirs. Instead, in his most compelling works since his debut, he has told the stories of others. What Is the What (2006) explored, in novel form, the ordeals of Valentino Achak Deng, a Sudanese "lost boy," and now Eggers chronicles, as nonfiction, the tribulations of Abdulrahman Zeitoun, a Syrian American painting contractor who decides to ride out Hurricane Katrina in New Orleans. Although his wife, Kathy, leaves town with their four children, Abdulrahman (known as Zeitoun because few locals can pronounce his first name) stays behind, hoping to protect their home, their job sites, and their rental properties. After the storm, he paddles the flooded streets in a canoe, rescuing stranded people, feeding trapped dogs, and marveling at the sometimes surreal beauty of the devastation. Was it God's plan that he help others? he wonders. Then people in uniforms take him at gunpoint and incarcerate him. There are no charges, only the guards' insistence that he is "al Qaeda" and "Taliban." Zeitoun's odyssey—23 days of grueling imprisonment, held incommunicado and deprived of all due process—is but one nightmare of many lived after Katrina. But it is exceptionally well told: here, as in What Is the What, Eggers employs a poetic, declarative style, shaping the narrative with subtlety and grace. More importantly, it is exceptionally well chosen. In the wake of disaster, we often cling to stories reassuring us that we respond to trials heroically. But Zeitoun reminds us that we are just as capable of responding to fear fearfully, forgetting the very things we claim to value most. Heartbreaking and haunting.